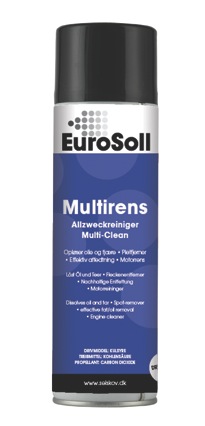 Multipurpose cleaner dissolves grease, oil and tar. The product is also effective at removing stains and cleaning engines.
Product description:
Multipurpose cleaner effectively removes and dissolves oil, tar, grease and dirt. The product easily dissolves rust protection on machines and machine parts. Multipurpose cleaner also easily removes oil and grease etc, from your hands. Multipurpose cleaner does not damage varnish, rubber or plastic.
EuroSoll uses carbon dioxide as the propellant in its spray canisters. Using carbon dioxide makes the products safer for the user and means that the majority of our products do not have a compulsory labelling requirement. The raw materials are environmentally friendly and have a high flash point.