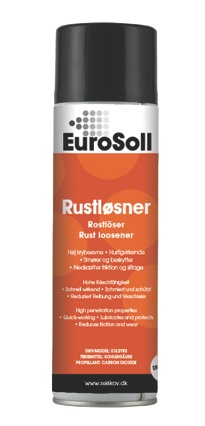 Rust Penetrant has high creep properties and is fast working. The product lubricates and protects while also reducing friction and wear.
Product description:
Rust Penetrant (Rustløsner) is enriched with penetrative additives that, together with graphite, make the product perfect for loosening bolts, screws, valves, machine parts, etc. that have rusted into place.
EuroSoll uses carbon dioxide as the propellant in its spray canisters. Using carbon dioxide makes the products safer for the user and means that the majority of our products do not have a compulsory labelling requirement. The raw materials are environmentally friendly and have a high flash point.