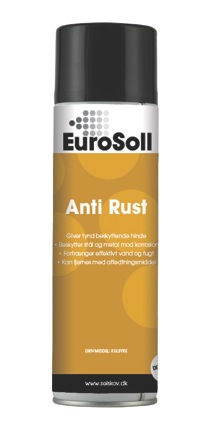 Antirust creates a thin protective film. The product also effectively displaces water and damp. Antirust gives long-lasting protection of machines and tools.
Product description:
Antirust forms a visible, light protective film that does not dry out and become hard and is a water displacing universal spray. Antirust actively protects all steel and metal parts from rust and also prevents corrosion of aluminium and light metals. The product is used for machines, tools, partly-manufactured products, etc. that need to be protected from corrosion before further processing. Antirust can easily be removed using degreasing agents.
EuroSoll uses carbon dioxide as the propellant in its spray canisters. Using carbon dioxide makes the products safer for the user and means that the majority of our products do not have a compulsory labelling requirement. The raw materials are environmentally friendly and have a high flash point.