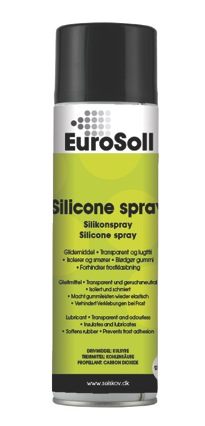 Silicone spray is transparent and odour-free. The product is used to insulate and lubricate. Silicone spray can also be used to soften rubber and prevent frost adhesion.
Product description:
Silicone spray has an anti-static effect and is used as a release agent and lubricant in many work functions. Silicone spray softens rubber edging and prevents frost adhesion. The product lubricates, insulates and has a water repellent effect.
EuroSoll uses carbon dioxide as the propellant in its spray canisters. Using carbon dioxide makes the products safer for the user and means that the majority of our products do not have a compulsory labelling requirement. The raw materials are environmentally friendly and have a high flash point.