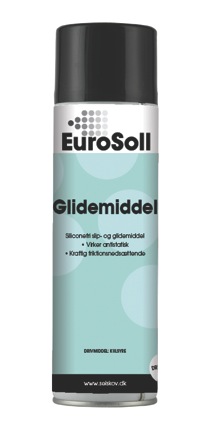 Lubricant is a silicone-free release agent and lubricant. The product has an anti-static and friction-reducing effect
Product description:
Silicone-free Lubricant has an anti-static effect and is used as a release agent and lubricant in many work functions. The product prevents fastening of almost all forms of resin and adhesives. Lubricant is used for all forms of woodworking machines, sawmills etc. where silicone products are undesirable. Lubricant does not affect metal, rubber, synthetic materials and skin.
EuroSoll uses carbon dioxide as the propellant in its spray canisters. Using carbon dioxide makes the products safer for the user and means that the majority of our products do not have a compulsory labelling requirement. The raw materials are environmentally friendly and have a high flash point.