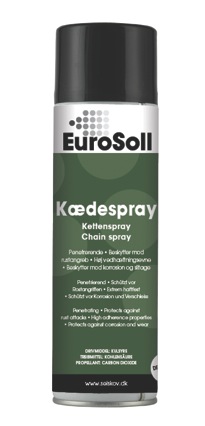 Chain spray is used as a lubricant. The product protects against rust and wear. Chain spray also has high adhesiveness.
Product description:
Chain spray (Kædespray) has been developed to stand up to the highest demands for lubrication of equipment in industry and the automotive sector. The product withstands water washoff and cleaning with most chemicals. The product is particularly good at lubricating chains, joints, and bearings. Chain spray (Kædespray) contains specially developed adhesive, anti-slip, anti-corrosion and lubricating additives. The product protects against rust, even in the dampest operating conditions. The temperature range is from -30°C to +180°C
EuroSoll uses carbon dioxide as the propellant in its spray canisters. Using carbon dioxide makes the products safer for the user and means that the majority of our products do not have a compulsory labelling requirement. The raw materials are environmentally friendly and have a high flash point.