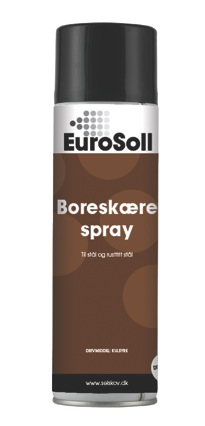 Drill cutting oil is used on steel and stainless steel and for threading and drilling. Drill cutting oil protects taps and threading dies. The product is chlorine free.
Product description:
Drill cutting oil causes a reduction in friction during all cutting tasks in iron, steel, stainless steel and creates good sliding properties. The nozzle allows precise dosing of Drill cutting oil to the item. Drill cutting oil reduces wear on the cutting tool.
EuroSoll uses carbon dioxide as the propellant in its spray canisters. Using carbon dioxide makes the products safer for the user and means that the majority of our products do not have a compulsory labelling requirement. The raw materials are environmentally friendly and have a high flash point.