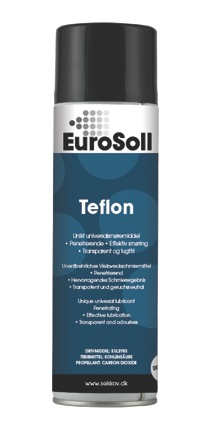 Teflon® is a universal lubricant. The Teflon® balls ensure constant friction in all moving parts and thus make the product an effective lubricant. The product is transparent and odour-free.
Product description:
Teflon® is the world's best friction-reducing material. Teflon® is used for many lubrication tasks in workshops, industry and the home. The Teflon® balls ensure a constant, low friction in all moving parts. Teflon® removes dissonance, loosens rusted parts as well as lubricating and protecting. Teflon® is used as a lubricant for cars, cycles, weapons, machines, hinges, etc. Teflon® does not harm plastic, wood, painted surfaces etc.
EuroSoll uses carbon dioxide as the propellant in its spray canisters. Using carbon dioxide makes the products safer for the user and means that the majority of our products do not have a compulsory labelling requirement. The raw materials are environmentally friendly and have a high flash point.